Is a Bidet Seat Right for You and Your Bathroom?
From a simple spritz to personalized settings, a bidet seat takes freshening up to another level
When you shop through retailer links on our site, we may earn affiliate commissions. 100% of the fees we collect are used to support our nonprofit mission. Learn more.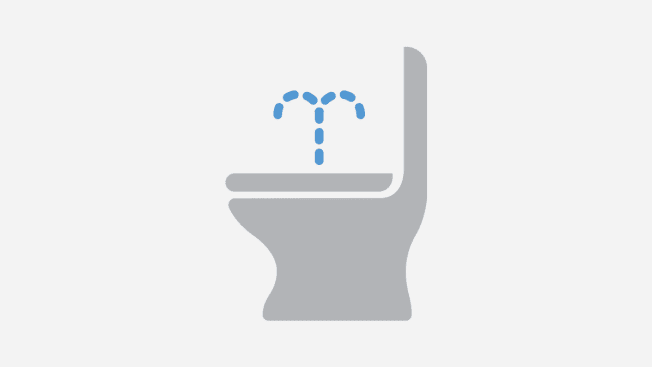 Do you need a bidet seat? Well, that's a very personal choice. But since the early days of the pandemic, when toilet paper was often hard to come by, more people are answering yes.
A bidet seat replaces your existing toilet seat, attaching to the bowl. It draws water from the toilet's supply line and electricity from a nearby outlet. With the press of a button on a remote, a wand extends beneath you and trains a stream of water powered by an electric pump to clean your underparts. Some bidet seats have fancy options, such as seat heaters.
There is also a more bare-bones bidet option—a bidet attachment. It simply mounts between the ring of your existing toilet seat and the bowl and requires no electricity (which, in most cases, means you won't get heated water).
The bidet has come a long way since it first caught on among the 17th-century French aristocracy. You can still find the classic porcelain basin that looks like a toilet without a seat but sprays clean water, providing a rinse for your backside.
For most, using a bidet has been overwhelmingly positive. But people also told us what they wish they'd known before they settled on the model they bought—such as whether the bidet was easy to install, if it was easy to clean, and whether it can warm up your bum. "I would want to know about features such as warm air-drying," one user said. "I did not know this was a thing until I visited Japan last year."
We included some insights from our panelists below, where you'll find the key factors to consider when buying a bidet seat or attachment. CR members with digital access can also read on for a selection of top-rated toilets.
One piece of advice up front: Even though a bidet can reduce the need for toilet paper, it's still a good idea to pat yourself dry after using one. This protects the skin in potentially sensitive areas from problems associated with excessive moisture, says Allen P. Chudzinski, MD, a colon and rectal surgeon who is a fellow of the American College of Surgeons and the American Society of Colon and Rectal Surgeons.
Here's what you need to consider before you start shopping for a bidet seat.
Cost: Prices range from $30 on Amazon for a Brondell bidet attachment that simply sprays water to more than $1,000 for Toto's top-of-the-line Washlet S550e bidet seat, which features a warm air-dryer and personal memory settings for two users. Some bidets are mechanical rather than electric (using just water pressure, like your toilet does to flush).
Shape: You can find bidet seats that fit either a round toilet or an elongated one. A bidet attachment works with any type of toilet.
Installation: Installing a bidet seat or attachment requires you to shut off the water supply to the toilet and replace the old valve with the two-pronged valve that comes with the bidet—use an adjustable wrench to unscrew the old valve and tighten the new one. Then you attach the two new supply hoses to the valve, one to the bidet and one to the toilet. Since a bidet seat replaces your toilet seat, you'll need to remove the seat before installing. (You don't need to remove your toilet seat to install a bidet attachment.) None of this is especially difficult, but you should be comfortable working around plumbing.
Some manufacturers, such as Toto, offer instructions via YouTube videos; in-home service is available if you want to leave the installation to a pro. Bidet seats will work with toilets from any manufacturer. However, there's a chance that the seat might wiggle a bit or not be a tight fit, as mentioned by the panelists in our bidet review. So be sure to check with the bidet-seat manufacturer to make sure that the model you're considering is compatible with your setup.
Cleaning: Many bidet seats and attachments have a "self-cleaning" nozzle, which runs water over the water nozzle to rinse it off after it's done spraying your behind. But it and the rest of your seat or attachment still needs regular cleaning on a daily, weekly, and monthly basis. You definitely shouldn't scrub it with bleach, but you'll need to wipe it down with a mild detergent regularly, and clean out any sediment from between the water supply and the filter.
What about toilet paper? Some manufacturers, such as Tushy, claim that their bidet seats result in less toilet paper waste and water use. And several panelists from our bidet user study found that they used much less toilet paper. "I would estimate our toilet paper consumption has gone down by half," one user said. "And I have less toilet paper anxiety." Some respondents found that they used up to 80 percent less TP. You'll probably still need to use a few squares to pat yourself dry.
Aren't wipes an easier option? Wipes are cheaper than adding a bidet seat, but they'll almost certainly lead to toilet clogs—even the "flushable" ones. Also, note that many colon and rectal surgeons advise their patients to avoid wipes because many contain drying agents, such as alcohol, that can lead to itching.
Seats tend to cost hundreds of dollars, and typically the more features and the more customizable they are, the more you have to pay. Most come standard with an adjustable nozzle, a seat heater, and adjustable water temperature—all operated by a built-in control panel. Here are other features you may find in a bidet seat that you'll typically pay more.
Automatic open/shut lid: Some high-end models have a seat lid that raises automatically when you approach it, then closes when you leave the bathroom.
Body sensor: Manufacturers use a variety of sensors to automatically turn the seat on and off. For instance, some Brondell and Bio Bidet models detect when human skin comes in contact with the seat, while Toto uses a weight sensor.
Control panel night-light: This is especially helpful for seeing all the functions on your remote or control panel if you get up in the middle of the night to use the bathroom and don't want to turn on the light to see.
Oscillating spray: The water nozzle moves back and forth to spray a wider cleansing area.
Remote control: Bidet toilet seats can be controlled by a small panel on the side of the unit, by remote control, or both. Some people prefer a remote control because they don't need to turn and look down at the seat's control panel.
One-button operation: Many models have buttons on the remote to adjust temperature, water pressure, water direction, and other functions. Some models also have a one-button option that washes and dries for a set time at a set temperature—a shortcut for selecting each setting each time. It's also useful for guests who haven't had a tutorial.
Tankless water heater: Most bidet toilet seats are outfitted with mini water tanks that heat and store water until it's needed. Tankless bidet seats heat the water on demand, which means they can provide a limitless warm spray. (Tank models can run out of warm water in under a minute, but that's enough time for most users.) Tankless models also usually have a more streamlined profile that some consumers prefer.
User presets: If you have multiple people in your house, a user preset allows each person to set their preferred cleaning preferences, including water temperature, pressure, and spray position. It's like having one-button operation (see above) for multiple people's preferences. One panelist in our bidet review shared how he wished he had opted for this feature on his bidet: "I dislike that I cannot save the seat settings, since I have to change the settings every time someone else uses it."
Warm air-dry: This usually is found only in expensive top-of-the-line models, and is sort of like a bathroom hand dryer for your bum.
Bidet attachments usually have fewer features than bidet seats. Because they don't require electricity, you won't get a heated seat or heated water, though some connect to your faucet's hot-water supply. Some users in our bidet review pointed out that the cold water spray from their attachment was more punishing than refreshing, so it's definitely something to think about. You do save, though: Bidet attachments typically cost $100 or less and are easier to install.
Best Toilets From CR's Tests
If thinking of buying a bidet has you wondering whether it's also time for a new toilet, see below for the best-performing models in CR's toilet tests. Many of the newest models save more water per flush and have coatings on the interior of the bowl that can help reduce soil and odor. The toilets featured here are compatible with bidet seats. Just make sure you buy a seat for the appropriate bowl shape. (Most toilets made today have an elongated-bowl shape.)