Best and Worst Home Internet Providers of 2023
Customers report low value and a lack of choice in a Consumer Reports member survey When Consumer Reports recently asked its members for feedback on their pay TV, home internet, and bundled plans, many companies got unfavorable marks for value and customer service. That's what we found in previous surveys, too. Yet an overwhelming majority of CR members—84 percent—agreed that web access is now as important as electricity or water service.
Some bright spots emerged from our annual survey, which this year received responses from more than 33,000 CR members. A handful of internet service providers (ISPs) deliver satisfying service, according to the survey. In addition, internet pricing has remained relatively stable, rising just about a dollar from what CR found in 2021. And most customers who try to negotiate a better deal for their bundled service are at least partly successful. 
Our survey is used to generate CR's telecommunications ratings (available to members), which include more than two dozen home internet providers this year, as well as a smaller number that offer TV and phone services along with bundled plans. 
Google Fiber, which offers internet service in 27 cities throughout nine states, received high marks across the board, including for overall satisfaction, as it did in 2021. (Google has retired its TV service in markets where it had been available.) Sonic, an ISP in California, got high scores from CR members as well, as did Metronet, which serves customers throughout much of the Midwest and South.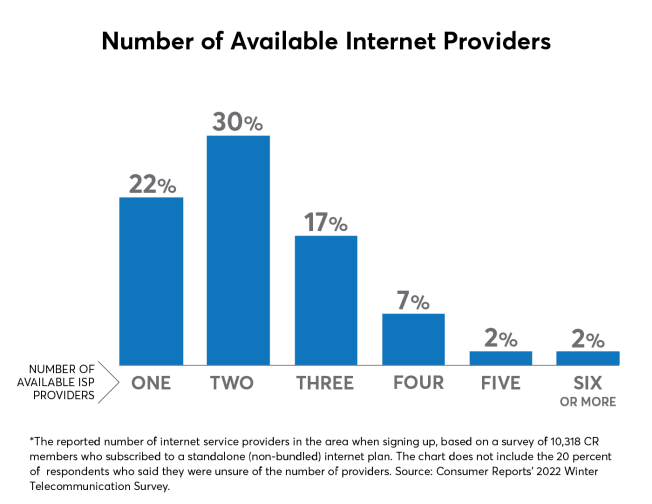 CR members are particularly critical of their traditional pay-TV services. Only about a third of them said they were highly satisfied, overall, and Dish was the only TV service provider that received passable marks for overall satisfaction. Every single company earned the lowest possible score for value. 
As we've seen in previous surveys, subscription rates for traditional pay-TV services continue to fall while subscriptions to streaming services continue to rise. Those include both individual services, such as Disney+ and HBO Max, as well as cable-style TV offerings such as Hulu + Live TV and YouTube TV. (CR has strategies to help you save money on streaming services.)
The survey found that only 68 percent of CR members still subscribe to a traditional pay-TV service, the same percentage as those who now have a subscription to one or more individual streaming services. That's down from 72 percent last year and 80 percent back in 2018.
Bundles that combine TV, internet, and phone service are sometimes described as the glue that binds people to traditional TV companies because these packages promise to offer convenience and especially savings. But that glue is coming undone as more people jettison traditional pay-TV service.
No bundle provider received a favorable overall satisfaction score in our survey. Every single provider received our worst mark for value, even though there was a $100 difference between the cheapest median price paid ($114 per month, from Kinetic by Windstream) and the highest ($218, from Cox).
RCN and Consolidated Communications were the only bundle providers to receive a decent score on any measure, for customer service.
About two-thirds of members with a three-way bundled plan reported having at least one negative experience with their service. For example, a third found that the cost increased significantly after the initial promotional period ended on their contract, and 23 percent had difficulty getting customer service on the phone.
The most satisfied bundle customers were those who had a choice among providers. The relatively few consumers who had three or more bundle providers to choose from were most likely to be very or completely satisfied with their bundle provider.
A big takeaway from CR's survey is that when it comes to internet, TV, and phone bundles, it pays to haggle. Only 35 percent of CR members who subscribed to a bundle had done that. But among the people who negotiated, an overwhelming majority of them—nearly 70 percent—succeeded in getting a discount or other benefit.
About a third of those who negotiated with their provider received a lower price and/or got a new promotional rate. Fourteen percent were able to get faster broadband speed, and 8 percent received additional premium channels, such as HBO or Showtime, or an extension of their original promotional rate. In fact, some hagglers walked away with multiple perks.
AT&T, Comcast (Xfinity), Cox, and Optimum customers were the most likely to get a promotional rate when they asked for one. Bundled customers who negotiated with Charter (Spectrum) were the least likely to get a lower price.