How to Cut Home Heating Costs This Winter
These smart moves will keep your house toasty without blowing your budget
When you shop through retailer links on our site, we may earn affiliate commissions. 100% of the fees we collect are used to support our nonprofit mission. Learn more.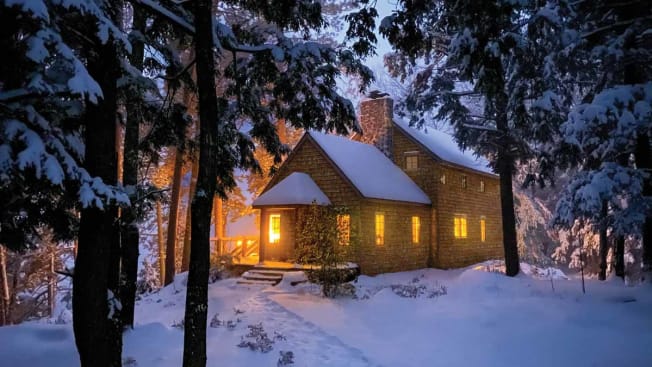 For the typical American household, utility bills are about $2,000 a year, according to the most recent Department of Energy figures. Heating an average home accounts for about $900 of that. So you want to keep the warm air you pay for inside instead of flying out through drafty windows, wonky doors that don't fit their frames, and under-insulated attics and basements. Weatherizing your home is job No. 1 and may whittle down heating and cooling costs by 20 percent annually (or about $220), the DOE says. Keeping your heat and hot water systems running smoothly and taking advantage of available rebates and tax credits may save you even more.
Professional servicing of your heating system (typically $150 to $500 for an entire heating, ventilating, and air conditioning system) will include everything from replacing dirty filters to checking for safety issues like potential carbon monoxide leaks. A heating system that's running efficiently may save you money. For instance, the DOE says a well-maintained heat pump can use up to 25 percent less fuel than a neglected one. "Ideally, have this done in what's known as the swing season, before the real cold kicks in," says Larry Zarker, CEO of the Building Performance Institute, a nonprofit credentialing and standards-setting organization for the industry. Also check air filters from time to time for dust and dirt, and change them if they're dirty.
Decide Whether to Have an Energy Audit
Think you'd benefit from details on your home's energy performance? A trained energy assessor can evaluate it for issues like insufficient insulation or a heating system that might warrant replacement—and help develop a plan to improve efficiency and lower your energy bills. This can cost $210 to $670 but may uncover ways to lower your monthly energy bills by up to 30 percent, according to the DOE.
Insulate Your Hot-Water System
Slipping foam "sleeves" (about $11 each) around water pipes in or near exterior walls may save up to $80 per year and reduce the risk of pipes freezing if temperatures dip below zero. Wrap a heat jacket (about $30 to $45) around your hot-water heater (if your utility company allows it) and it won't have to work as hard.
Sleuth Out Leaky Doors, Windows, and More
To play air leak detective, hold a lit stick of incense in front of windows and doors while inside. Horizontal smoke indicates less-than-airtight closures. Or dampen the back of your hand and run it around door frames to feel for cool outside air that's making its way in. You can also use a handheld thermal leak detector (about $26). These same techniques will reveal air leaks near sinks and toilets, electrical outlets, attic hatches, and ceiling fixtures. "Can lights in your ceiling can funnel heated air right out of your home," Zarker says.
Window Wisdom
Windows that fit imperfectly can allow cold air in during the winter. If caulking and similar fixes (see below) aren't enough to stop air leaks, consider low-emissivity (low-e) storm windows, which are coated to help keep the warmth inside in colder regions and the heat outside in warmer climates. (Bright sun pouring through glass panes in the summer can make your home a lot hotter.) Adding these products, available at home centers for $100 to $300 each, to inefficient older windows can help save up to $600 on an average annual energy bill of $2,000. And you can easily put them in yourself. Still not enough? Consider window replacement. Costs vary widely, depending on such factors as size and style. If you're a CR member, you can refer to our replacement window ratings to help you choose. The nonprofit National Fenestration Rating Council also rates and labels the energy efficiency of windows, doors, and skylights.
CR's Top-Rated Vinyl Windows
New windows can make your home quieter and less drafty, and may be easier to clean than older models. Here are two replacement vinyl windows that earn our top scores.
Seal Those Leaks the Right Way
Now that you've identified leaky spots, seal them up. Start by adding inexpensive weather stripping or caulking to doors and window frames that need it. (Weather stripping is best for components that move, like operable windows, and caulking for those that don't move, like windows that don't open.) Also consider applying temporary clear plastic window film to the inside of windows and patio doors. Come spring, it will be easy to remove. (Find kits with enough film and tape to apply to five windows for $30 or so at home centers and Amazon.)
For cold air that creeps in at the bottom of doors, you can purchase a draft stopper "snake," cover the area with a rolled-up towel, or install a screw-on, stick-on, or slip-on door sweep. They're available at home centers and hardware stores for about $5 to $32 each. To keep chilly air from blowing through outlets and switch plates on exterior-touching walls, put foam gaskets behind them. They're less than $6 for a six-pack.
You'll have to replace all of these products from time to time. "Weather sealing around doors does wear," says Christine Ciavardini of MD Energy Advisors, which offers businesses and other organizations advice on energy choices. "Spending $10 at Home Depot to replace it can be impactful."
The top level of your house can be a notorious source of heat loss because in winter, warm air rises in what's called the stack effect. So making sure that warm air from living areas doesn't leak into the attic is quite important. In addition to checking for window drafts and other air leaks, it's smart to assess attic insulation, which is "akin to a sweater for your house," says Lauren Urbanek, senior energy policy advocate at the nonprofit Natural Resources Defense Council. What you may add in warmth and save in dollars by ensuring that your attic is well insulated varies from place to place and house to house. But it can be significant.
For a quick evaluation, take a look at your attic. If the insulation looks uneven (perhaps it's heaped up in the middle of the floor but thin along the eaves) or it's below or just at the level of the floor joists, you probably need to add more of it, according to the Energy Star program. It's often best to hire a trained insulation contractor for this, because attics and insulation materials can make for challenging work, Zarker says. (Find leads at the Insulation Contractors Association of America.) How much insulation is optimal depends on what you already have, the climate in your area, and the kind of insulating product you choose.
Batten Down Your Basement
"Along with attics, basements and crawl spaces are responsible for the most energy loss in a home," Zarker says. Warmth escaping through uninsulated basement walls and windows can account for up to one-third of the heat loss in the average home, according to the Building Science Corporation, a consulting firm for the DOE.
Insulating and sealing basement air leaks is often best left to a certified professional with expertise in basement work because of potential combustion, moisture, and air-quality issues. Find certified pros through the Building Performance Institute.
Seek Out Savings, Rebates, and Tax Breaks
Energy prices may be up, but an increasing number of strategies can help you cover those costs. There's also funding available for upgrades to everything from doors, windows, and insulation to heating systems and water heaters. (Tankless models, for example, can be significantly more efficient.) So keep your eyes open for local, state, and federal incentive programs.
Notably, under the recently approved Inflation Reduction Act, you may be eligible for tax credits of $4,000 to $8,000 for cutting your energy use, depending on your income. For instance, you may be able to get $1,200 a year for insulation from January 2023 through 2032. An electric heat pump could get you up to $2,000 credited back, and the tax credit for putting in a solar energy system is up to 30 percent of eligible expenses. Plus, "you can even find zero percent financing for some upgrades," says Zarker at the Building Performance Institute.
Your utility company may also have ways to control your bill, such as level billing (which averages your costs over 12 months) and price locks (which hold costs at a set rate all season). But be aware that some utilities charge more for electricity use at peak times. Ask yours so that you can determine when you can use appliances most economically.
Editor's Note: This article also appeared in the December 2022 issue of Consumer Reports magazine.