Best Deals on Pet Products Right Now
From pet cams to GPS trackers to vacuums, these are the best sales
When you shop through retailer links on our site, we may earn affiliate commissions. 100% of the fees we collect are used to support our nonprofit mission. Learn more. Keeping our furry friends safe is always top of mind. Whether you have an explorer with a penchant for running off during walks or an anxious pup who could use a check-in when you're out, there are lots of products to help. Finding a high-quality one is key, and that's where we come in, with items like lab-tested GPS trackers and pet cameras evaluated by editors in their very own homes.
Viewing on a mobile device? Click on the links below to skip to each section.
• Cameras
• GPS Pet Trackers
• Vacuums for Pet Hair
• Fountains and Feeders
Get discounts, product recommendations, and buying advice from the shopping experts at CR. Sign up for our ShopSmart newsletter.
In evaluating the best pet cameras, our editors found the Arlo Essential Indoor to be a close second to the Furbo dog camera. And even though the Arlo is technically a home security camera, which means it lacks functionalities like tossing treats, it still provides the necessary technology for checking in on your pets. Our editors found the device's video angle and video quality to be great, and its corresponding app was easy to use. While the setup was a bit tricky—and the privacy shield makes a noise that could alert your pet when it comes on—it did impress as far as sound. 
Why it's a good deal: This is an even better deal than we saw during the holidays, by $5.
The Tractive GPS Dog LTE is the top-scoring model in our testing and was especially easy to set up and use. Light and compact yet sturdy, the slender unit easily attaches to any dog collar and will fit comfortably on most small dogs and even cats. The app is among the best of the bunch, with a clean and intuitive interface. In the live mode, which you activate if your pet goes AWOL, it geolocates every 2 to 3 seconds, and that makes for more precise tracking, showing you locations almost in real time.
Why it's a good deal: At $15 off, this is a solid deal from the list price.
The Whistle Go Explore is lightweight yet solidly constructed. It has a claimed battery life of up to 20 days and a strong light for spotting your dog at night. In lost-pet mode, it geolocates every 15 seconds, but despite the name doesn't emit a sound. One small knock: It can't be charged without removing it from the collar, an extra step that might lead you to accidentally head out for a walk without your tracker. The Whistle app stands out for the level of activity and health data available. It graphs activity levels throughout the day, creates a daily timeline of activities, and breaks out time spent on various behaviors, including negative ones like scratching and licking that, if excessive, might signal a problem. 
Why it's a good deal: This is the best price we've seen for this GPS tracker in grey. Still, the other colors (green and magenta) are also discounted by more than $50.
The Cube is not specifically intended for pet tracking but to help people keep track of a range of possessions, including cars, luggage, and kids backpacks, as well as pets. That puts the Cube at a disadvantage as a pet tracker, despite its competent core tracking abilities. The device is relatively large and heavy, but most dog collars won't fit through its thin slots, so you need to purchase an add-on collar clip for $25. On the other hand, it does let you set a home "safe zone" and virtual fence, is very solidly constructed, creates detailed and easy-to-read location histories, and is capable of delivering high-temperature alerts.
Why it's a good deal: Savings a few bucks on an already affordable, basic tracker is worth considering. Or hey, just buy one to use for your keys.
The Tineco Pure One S11 cleans impressively in all our major tests and has many features to boot. An LED panel shows how much battery life you have left as well as the suction level, which varies when you switch from bare floors to carpet. A sensor detects the amount of debris and adapts the suction power accordingly. If you're so inclined, you can connect to a Tineco app that indicates cleaning performance, such as battery life, on your smartphone. In CR's tests, it ran for 22 minutes per charge when using both the high and low settings.
Why it's a good deal: If you need a vacuum now, this is a great discount for this model. Make sure to click the on-page coupon to get the full savings.
This Black+Decker Flex BDH2020FL hand vac earns our top rating for handling pet hair, which is unusual for a small vacuum. It also rates highly for cleaning along edges and nearly as well for both carpet and bare floors. It comes with several attachments, including a handy crevice tool, and all the tools stow in the charging dock.
Why it's a good deal: We've seen this model for $20 cheaper during big sales moments, but if you need a trusty hand vac right now, it's still a decent discount.
A cat water fountain was by far the most popular product pick for pet owners during the holidays, according to our colleagues. Joe Novotny, a CR marketing associate, recommends this version from Petlibro: "The pump has a five-level filtration system, a translucent container for seeing when water is running low, and comes with a cleaning brush as well."
Why it's a good deal: This fountain is selling for $37 at other retailers, so if you want to save on a new hydration station, this could be worth a look.
Catit Flower Plastic Cat Fountain, 100-Ounce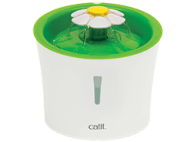 "I have a deep fear that my cat doesn't drink enough water and will end up with kidney issues," says Stephanie Davis, a senior marketing manager at CR. And if you're a cat parent who shares that sentiment, a water fountain may be the answer. "She won't drink still water from a bowl and wasn't keen on one other fountain before this—the filters are also easy to change for this one—but she loves this one for some reason."
Why it's a good deal: This fountain is already afforadble, so $5 off is an added bonus.
Wonder Creature Store Cat Water Fountain Stainless Steel
"I have two of these, and they're great because they encourage the cats to drink more water," Arnold says. "Cats notoriously don't usually drink enough water, so having these help keep their water cleaner and the kitties healthier!" The fountain comes with a filter inside and is dishwasher-safe to boot.
Why it's a good deal: We've seen this fountain for a few dollars cheaper during the holidays, but $3 off a lower-priced item is nothing to sneeze at. Make sure to check the on-page coupon.
Cat Mate C3000 Automatic Dog & Cat Feeder, 26-cup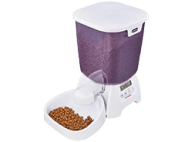 This automatic feeder allows pet owners to schedule up to three meals a day, in any desired quantity, Arnold says. The device has a maximum capacity of 26 cups and can be programmed to give out meals as small as 2 teaspoons.
Why it's a good deal: This one's currently on sale for 60 percent off its original price.